Our Recent Accomplishments
Howie, Sacks & Henry lawyers are committed to achieving outstanding results for our clients while also supporting legal associations and community groups that provide invaluable resources to our clients and the rehabilitation community at large.
Whether we are helping vulnerable accident victims to obtain the compensation they need to rebuild their lives, or devoting volunteer hours to championing social justice causes, we are driven to make a difference in the lives of our clients, their families and our shared communities. Some highlights of our recent activities include:
How we can help
Our lawyers can help you pursue compensation for:
Lost income
Diminished future earning capacity
Medical and rehabilitation expenses
Attendant care expenses
Home modifications
Recent successful outcomes*
Paul Miller was a member of a co-counsel team that negotiated a settlement of the proposed data breach class action against CarePartners. If the terms are approved, CarePartners has agreed to pay between $2.44-$3.44 million (depending upon the number of affected Class Members) to fully and finally settle the action.
Adam Wagman and Joel Dick successfully argued that our client's ATV collision was in fact a motor vehicle "accident" as defined by the legislation. As a result, the client is entitled to receive Catastrophic Statutory Accident Benefits of over $1 million.
Valérie Lord successfully represented the interests of our client, Jane Doe, as a proposed intervenor in a class action commenced against Ukraine International Airlines, the Islamic Republic of Iran and the Islamic Revolutionary Guard. As a result of our intervention, the judge made several important decisions respecting notice and opt-out procedures that will protect our clients and ensure that they do not become entangled with the claims against the Iranian government and military.
Neil Sacks won a significant trial decision for his client, a dentist whose career was cut short by a negligent eye surgeon.
Our lawyers settled a Canada-wide class action litigation against the makers of potentially fatally-defective implantable defibrillator products.
A jury awarded Melissa Miller's client almost 20 years of disability benefits that were improperly denied by State Farm, along with substantial interest awarded by the trial judge, amounting to more than $1 million in total.
A recent Workplace Safety and Insurance Appeals Tribunal (WSIAT) decision affirmed that Melissa Miller's client has the right to sue the owners and managers of the apartment building where she lived for injuries sustained in a slip and fall accident despite the fact that she was also employed by them. 
Melissa Miller also successfully represented a client who was injured in New Jersey by a defective piece of industrial equipment that was built by a Canadian company; the judge denied the Canadian firm's request to have the claims dismissed. 
Melissa Miller successfully resolved a group of American and Canadian cases arising from a January 2017 shooting incident at the BPM music festival in Playa del Carmen.
* Past results are not necessarily indicative of future results and the amount recovered and other litigation outcomes will vary according to the facts in individual cases.
Recently-initiated lawsuits
HSH and two other firms have filed a proposed class action on behalf of young gymnasts who claim that they were emotionally, physically and/or sexually abused while participating in programs and events organized by Gymnastics Canada, Provincial Member Organizations or Member Clubs.
After a highly-contentious certification hearing, our class action lawsuit has been certified against a prominent Toronto plastic surgeon (the self-styled "Dr.6ix") who had an elaborate system of video surveillance cameras that captured videos of his patients in his offices in various stages of undress without their knowledge or consent.
We have filed suit against two psychiatrists who subjected patients to unspeakable psychological experiments while practising at the Oak Ridge and St. Thomas mental health hospitals.
We are representing hundreds of families who lost loved ones prior to the pandemic due to nursing home negligence as well as those who suffered as a result of COVID-19 outbreaks in long-term care homes.
HSH has been retained on behalf of 22 passenger claims and associated family members as a result of the downing of Ukraine International Airlines Flight 752 by the Iranian Regime.
We are representing the family of a Canadian victim of Ethiopian Airlines Flight 302 who perished when her Boeing 737 MAX 8 plane crashed minutes after takeoff.
We are representing more than 100 women who have experienced severe adverse reactions related to the use of Essure contraceptive devices in their mass tort lawsuit against Bayer Inc.
We are representing Canadian diplomats, and their families, who were attacked and went on to suffer from Havana Syndrome while representing Canada in Cuba.
We are representing over 2,000 Canadian veterans who experienced life-altering side effects after taking the anti-malarial drug, Mefloquine.
HSH is co-lead counsel in a national class action on behalf of provincial, territorial, and federal governments to recover opioid crisis-related healthcare costs.
Community involvement
HSH supported the 2023 Tort Law Moot at every stage of the competition: Adam Wagman was a member of the Tort Moot Committee Executive; Neil Sacks was a Judge; Santa Train, Samantha Shatz, Daniel Fisher and Grant Black were Practice Judges; and Eman Khoshbin was a Coach.
HSH (in partnership with the University of Windsor Faculty of Law), proudly established the Howie Sacks & Henry LLP Racialized Student Scholarship which is awarded annually to a full time Law student who identifies as Black, Indigenous or of a racialized community and who demonstrates financial need.
Samantha Shatz is a member of the Brain Injury Society of Toronto (BIST) Board of Directors.
Valérie Lord appeared as a cast member in The Lawyer Show, a virtual production that raised funds for Nightwood Theatre, one of Canada's leading women-led arts organizations.
Valérie Lord was voted in as a Member-at-Large for the Ontario Bar Association's Class Actions Law Executive for the second consecutive year.
Melissa Miller, Daniel Fisher and Tania Harris hold leadership positions with the Ontario Trial Lawyers Association (OTLA).
Melissa Miller co-founded the grassroots advocacy group Canadians4LTC (C4LTC) which has been campaigning across the country for improved living and working conditions in long-term care homes.
Kaitlyn MacDonell was appointed as President of the Brain Injury Association Peterborough Region.
Sandra Train assembled volunteers to make and donate masks, hand sanitizer and face shields to a local community living facility, and she also supported our four-legged friends by delivering over 2,000 lbs of donated dog food to an animal rescue organization during the early days of the COVID-19 pandemic.
We funded the purchase and donation of a set of iPads to the Toronto Rehabilitation Institute's Lakeside Centre to help ensure that patients undergoing therapy at the facility can stay in touch with friends and family during the COVID-19 pandemic restrictions.
In addition to our long-standing support of the Lawyers Feed the Hungry program, we co-hosted Creative Counsel: a silent auction of art and photography created by local lawyers. The event raised more than $15,000 for the program.
We continue to support our friends and colleagues in the brain injury community by donating funds, sponsoring virtual events and volunteering our time to groups such as the Brain Injury Society of Toronto, Toronto ABI Network, Brain Injury Association of Peel and Halton, Brain Injury Association Peterborough Region, Toronto Rehabilitation Institute, and more.
Among the best in Canada
Since 2011, our peers have consistently voted for us as one of Canada's top personal injury firms in Canadian Lawyer magazine's annual rankings of the top personal injury boutiques in Canada.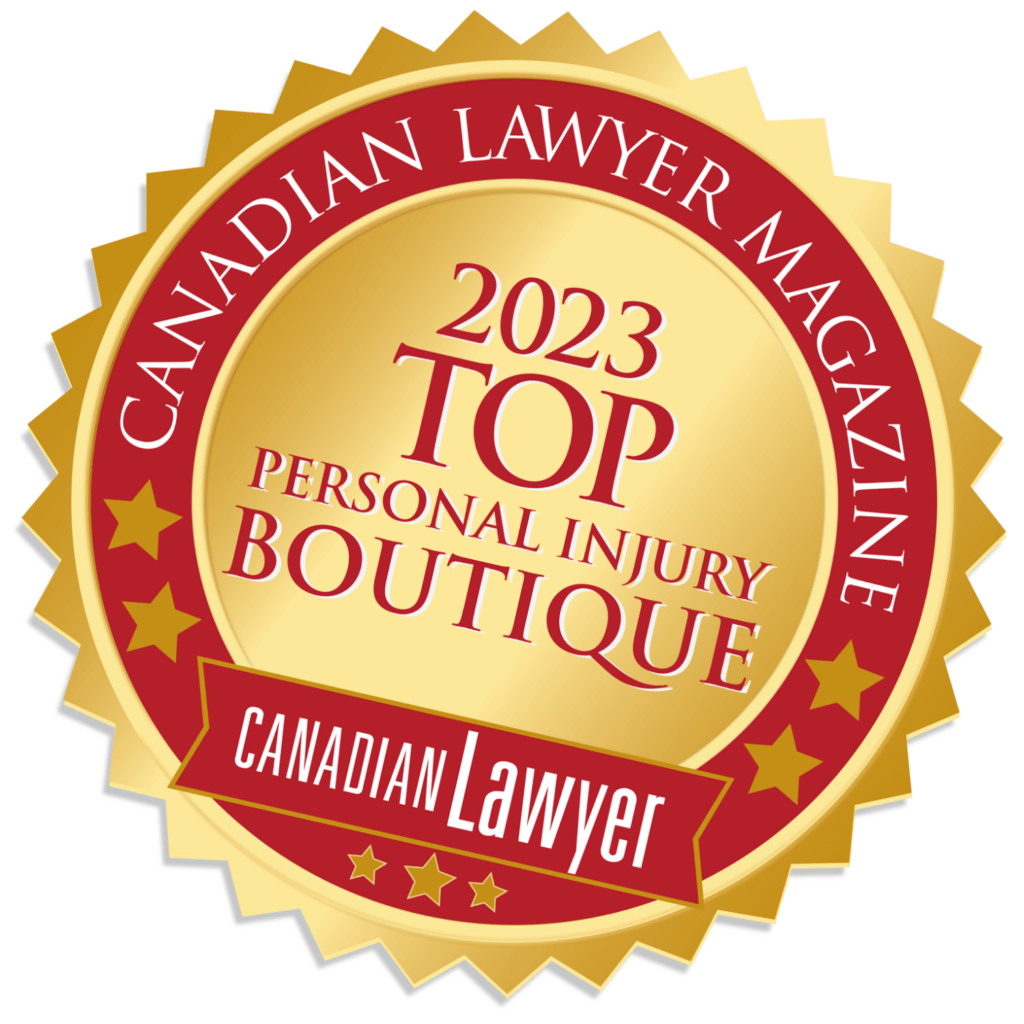 Tell us what happened

Our team of highly-trained lawyers are here to listen and help.