Howie, Sacks & Henry Testimonials
At Howie, Sacks & Henry, we love helping our clients receive the compensation required to help provide peace of mind.

We love helping them stand up for their rights and ensure they are properly taken care of. We love helping them make sense of difficult situations and see the best possible outcomes. These are just a few comments our clients took the time to share with us.

General Testimonials

I must say Howie Sacks & Henry truly lived up to its billing, specifically Joel who took on my case. Most importantly they [were] transparent, ethical and fair throughout this process. Highly Recommended.
A.H.
Mr. Henry, thank you for your expertise and your valued assistance in my case. I especially admired your knowledge, wisdom and skill during the whole Mediation process. This resulted in a very positive outcome. I appreciated, as well, your keeping me informed throughout the entire case. Your phone calls to me ahead of the Examination for Discovery and the Mediation were especially informative and helpful. I am indeed satisfied with the result and with all the services that you and your staff provided to me. I would heartily recommend you to others seeking your services.
A.M.G.
During our initial discussion with our solicitor, Michael Henry, we were made aware of how long the process would probably take, what to expect from the other party and assured that we had a solid case. Michael and his team were always available by telephone and email and we were completely at ease when we went to Discovery and again when we went to Mediation. Michael answered all our questions and concerns and assured us that no payment was required until we were compensated. The case unfolded as Michael explained and it settled at Mediation to our delight and satisfaction . The whole process was made a lot easier and less stressful knowing Michael was on our side . The fees were fair and reasonable . We highly recommend Michael Henry and his team at Howie, Sacks & Henry.
André & Marie L.
This is a testament to the excellent services provided by Brad Moscato in settling my case in a timely manner. Great preparation for the discovery and mediation. Brad was always available to take my calls and answer any questions. Good work on getting it settled before trial for a satisfactory amount. I would highly recommend Brad & Howie, Sacks & Henry.
Andrew O.
Thank you again Meghan for all of your help. We really appreciate how hard you have fought for us today, and throughout these eight years. We will always remember the kindness and empathy you have shown us and our family is immensely grateful for everything you have done for us.
Annie O.
Dear Mr. Michael Henry, I wanted to thank you for all the work you have done for me. You have been very friendly. Your professional and knowledgeable staff have helped me throughout. The frequency of responses and timely communication is another plus that your team has. I would definitely recommended you to others that may be looking for an honest and reliable lawyer.
Azar S.
Adam Wagman and his team fought hard to make sure I received everything I was entitled and a great settlement. Adam also took the time to help me understand the process and my rights. My family and I are grateful that Adam and HSH were in my corner.
Baljeet B.
Brad, my life has been changed by the judgement I was given, and it's all for the best. Since we've received our settlement we've bought a condo on Yonge Street, where I'm now able to get out and about by myself and actually do day to day activities. I still have a very long way to go but I've already gone so far since my settlement. We were busted broke, I had no hope. Your firm not only gave me hope they gave me the tools I needed to escape. For that I will forever be thankful.
Barb R.
Sandra - thank you very much for handling my case so well and especially your patience with me.
Brian P.
Joel and his associates are truly the most caring and compassionate law firm. Throughout my case they advocated on my behalf, allowing me to focus on my rehabilitation. Joel personally spent numerous hours on the phone with me to help me make the best decisions for my future medical needs and I am forever grateful for his support. For almost three years he worked tirelessly to ensure I was reimbursed for the treatments I have needed since my motor vehicle accident. Most recently he obtained a settlement for me. While the money can never change what I will continue to live through on a daily basis, I do believe the compensation was fair and validated my chronic pain and suffering. Thank you Joel and team for being my advocates and helping ensure I can continue to work on my recovery
C.M.
A sincere thank you for all your help and support! Brad, I will continue to refer you to others as I have done in the past. Also, a sincere thank you to all staff members who participated on my behalf, especially Christine.
Carmela R.
Thank for your hard work and dedication regarding my case. Brad, you were outstanding, remarkable and professional from start to end. Brad you were relentless in perceiving and winning the case for me.
Carmen R.
I appreciate and value the honesty and reliability I received the moment my case was reviewed and course of action recommendations. Joel and team were supportive and respectful at every stage of litigation. Thank you!
Carol B.
Using the expertise of Melissa Miller of Howie, Sacks & Henry helped ease me through my personal injury battle. Melissa always made me feel like I was her only client, with her gentle yet assertive approach to all of my questions. The quality of service and knowledge was unsurpassed.
Caroline W.
Dear Meghan, thank you for the work that you did on my behalf. As I have had a negative experience with a lawyer in the past I had trepidation moving forward in my case. Once we decided to move forward with you I felt reassured. You were extremely helpful and explained the legal process in a way that was easy to understand. You demonstrated your knowledge and expertise in your field which put me at ease. In an otherwise stressful situation I felt relatively little stress as you acted as a liaison between my insurance company and myself. You kept me up to date on the details and answered my questions. Your care attention determination and fight are the reasons that I didn't have any out of pocket expenses and was able to receive the best possible settlement I feel that you are worth every penny and wouldn't hesitate to recommend you to anyone that needed a bulldog to win their fight.
Catherine De C.
My case involved a few subtleties as there was a curveball thrown in partway through. Melissa handled everything in stride and kept my involvement to a minimum. A classy company!
Chris M.
Dear Melissa, how do we even begin to say "thank you" and express our deep appreciation for you and your dedication to our family over the last 11 (almost 12) years... We knew going into this process it was going to be tough and not meant for the faint of heart. Your guidance and passion brought us much comfort and trust every step of the way. We are so grateful for your compassion and for your advocacy. You were interested in our case from the beginning and we take comfort knowing that you gave it everything that you possibly could. We hope nothing but the very best for you professionally and personally. Thank you for everything that you have done for us. While the final result was not what any of us had hoped for, we can now finally start the healing process knowing that we fought a hard fight and have zero regrets. Once again, our entire family wishes you the very best and we send you so much love as you start your new motherhood journey.
Craig B.
Melissa is a true asset to Howie, Sacks & Henry. She is a talented lawyer, straightforward and to the point. She was determined to resolve my case with the best possible result for me. Extremely personable and easy to talk to. I would (and have) highly recommend Melissa to my friends. Would not hesitate to use Melissa in the future. Thank you again. Without your assistance this would never have been resolved.
D.C.
I wanted to add that Tania went above and beyond my expectations on making this a smooth transition. Great job Tania!
Dan H.
Dear Joel Dick, I am pleased to mention your firm to people I know if they need a personal injury lawyer. I have been pleased with what you did for [my granddaughter]. I really do not know what else I can say. Joel, you understand what had happened to her with her heart condition. Hope all is well. Love you, Joel.
Diana B.
I just wanted to personally write to you and tell you what an amazing team you have with Meghan M. Hull Jacquin, Christie McKeown and Melissa Villano. They have taken care of me and Meghan has been a driving force of not only hope but reinforced positivity to me no matter what has transpired throughout the entire time my case has been going on. I cannot say thank you enough to her and her team for their tireless efforts to make sure that I was taken care of and that the RIGHT thing was done every time. Meghan has been my voice in this throughout and I have to say it was a great honour to me to have her as my spokesperson in this tenure. She is truly an amazing representative for the ongoing history of the firm as well as a voice to the people and the clientele that your firm deserves. Christie McKeown is absolutely brilliant as well in her diligence to always make sure she was always in contact with me and always followed up as soon as possible with thorough and precise explanations. An absolute pleasure to be in contact with her and she took amazing care of things for Meghan and me. Not to forget Melissa Villano who was the last person I have the esteemed pleasure to work with in my case and she has been just amazing with her immediate follow ups and quick accuracy of information, and a complete joy to work with. Thank you so much for having these truly amazing women in your firm. They are an absolutely brilliant example of what HSH is all about.
Duke G.
As my court case has ended with the generous and courteous ability of Adam Wagman and his elite team of lawyers. I wish to thank everyone on his team a very grand felicitation for my case. You were supportive, empowering, confident and resilient in assisting me in times of doubt and comfort me in times of true despair. The confidence you displayed in helping me through the harder times of my case were exemplary and I am forever grateful. I would not hesitate for a minute to refer you to anyone needing assistance for any injury. You are the best – with much gratitude
Elaine D.
Thank you, Meghan, for all your time spent on this. Your kindness and compassion during this whole ordeal was greatly appreciated. People need to know that there are sincerely great lawyers out there that have compassion for humanity.
Elizabeth K.
Michael, I would like to take this opportunity to formally thank you for providing us with all your expertise in handling our lawsuit, with your straightforward tact and sympathetic understanding you were able to ease my concerns. I always felt very comfortable working with you and know that my best interests were being served, I appreciate your time and work to bring this situation to a close. I was extremely satisfied with your professional temperament and attention to detail in tackling this lawsuit along with securing an excellent settlement. I want to thank you again for all your help and assistance over the past 3 and a half years in helping us work through this very emotional event. Thank you and your firm for providing us with the highest level of professional legal counsel available. The advice and representation we received throughout this very difficult process was everything we hoped for and everything you promised me since day one.
G.K.
I would like to express my appreciation to Renée and say thank you for your work. Since the moment we have met, I knew my case will be in good hands. I sensed empathy immediately and felt safe with you. Your knowledge as a lawyer and your previous working experience as a nurse is a very unique combination. Practical too. I believe this transmission of knowledge made it possible to understand what kind of implication this injury causes and how it is affecting my life. I would like to thank you and the team you worked with as well. I think the communication was excellent. Exchanging information between the members were handled carefully. Everybody was always pleasant, attentive and represented themselves in professional manners. I felt that my case was looked after delicately and prepared very well in details. Thank you again.
Gabriella H.
I would like to express my appreciation and gratitude for taking my case and seeing it through with utmost professionalism and positive outcome for myself. From my first meeting with Adam, through following interaction with Joel, staff and third party professionals I always felt I was in the hands of true professionals. Never once did I have the need to ask for clarification or question anything. You and your teams attention to detail is an inspiration, something one does not encounter very often. If someone were to ask me how you might have handled my case better, I would be at a loss for an answer. It goes without saying I will recommend only you to those who may be in need of your services.
George H.
It's been over 7 months since my case was finalized with Howard Blitstein as my lawyer. I took this time to fully heal mentally to understand the impact it has left me the past 5 years dealing with my lawsuit. It was mentally exhausting for me while I battled with my lawsuit and health. I am finally able to express my thoughts by saying that Howard played a major role in my settlement. My husband was a very big factor trying to calm me down during this ordeal. My stamina to battle the legal system made me stronger as time grew to a close. [My husband] made countless prior phone calls with other lawyers and Law firms before he handpicked Howard himself. He knew what I wanted and needed. I want to thank the firm of Howie, Sacks & Henry for taking on my case. I also want to thank Denise Mundier, Ana Santos, Kristy Mayers and all the women behind the scenes who do a lot of the workload in preparation who often may get overlooked in the office. I remember sitting in the office with Howard Blitstein and Neil Sacks years ago discussing my case at length and both agreeing to start litigation. Thank you to Neil Sacks as well. My settlement is satisfactory to my future needs, I understand now after 7 months, it would have been perilous to continue with no assurance in the end. An extra amount of dollars could have unfortunately derailed this. Howard not only did a wonderful counsel of my case but was very kind, gentle and showed personal compassion for my right to justice. He was always available within an hour or less of a phone call or email at home or office. He made me feel I was in good hands and trust was always important to me. Howard Blitstein also contacted me 2 months ago just to see how I was doing, which brightened my day. Very classy. Howard Blitstein deserves a high commendation for his excellent qualities as an attorney and I appreciate all he has done for me. Both my husband and I applaud him with utmost respect. He is a great lawyer but also a true gentleman.
Georgia B.
Michael, I just wanted to take a moment and thank you for all of your hard work. Your kindness, integrity and patience are most admirable. More importantly, you have my deepest gratitude for treating my mom as a person, not just another client.
Helen K.
I would like to express my sincere thank you to Adam, Joel and his team for helping me with the injury claim. I was kind of lost and unsure about my rights (if any) after my injury. I received many valuable advice from different people but I felt that I need a qualified law firm to represent me so my rights are protected. After the initial phone call with Adam Wagman and meeting with Joel, I knew my claim will be handled professionally and most importantly with my best interest in mind. I have complete trust in Joel and his team. Joel answered my emails and questions promptly and also took time explained to me about the negotiation and settlement process. I would highly recommend Adam, Joel and his team of Howie, Sacks and Henry to anyone in need of injury claim.
J. Lee
David and Orit, I cannot tell you often enough just how amazing you are. Not only do you keep an incredible system running, you have the rare ability to fully support your clients. For me you had the uncanny ability to say exactly the right thing at the right time. Every time I was about to have a major meltdown you were so patient, so reassuring and so able to help me put things into perspective. Your on-going support was critical to me. I'm not sure I would have been able to hang in to the end without your help. So a very, very big thank you from the bottom of my heart.
J.C.
I am so grateful to have had the pleasure of meeting with Melissa Miller and to have received advice from somebody so knowledgeable in her chosen field. I appreciate the time that she spent with me, and look forward to hearing of an eventual positive outcome to the matter at hand.
Janine L.
Thank you Sandra for being there with me today. I would have never gotten through it without you by my side. You are one amazing, professional, articulate and outstanding lawyer. Seeing you in action and how quick you are and how you never miss one heartbeat totally impressed me. I thanked God I was in your good hands.
Jo F.
Michael Henry took my work injury case and exceeded all expectations in terms of his ability to tackle unforeseen obstacles and still meet the settlement amount we talked about in our initial consultation.
John M.
Joel, my sincere appreciation for a job well done and for your unwavering support. Litigation was not a road I wanted to travel but since that's the way things unfolded, I'm very grateful that you and I journeyed it together. You were the perfect fit for me – patient, kind, understanding, confident, strong, straight-forward and extremely knowledgeable. You led me masterfully through this whole process. I deeply appreciate your belief in me and in the legitimacy of my disease. Thank you for the victory. What a positive difference this has made, and will continue to make, in my life.
Kate
I would highly recommend Brad Moscato to anyone looking for a lawyer to handle personal injury or disability case. He fought for what was just and did not ever back down to what the insurance company said or did. Brad and his team were compassionate and helpful at all times.
Kim B.
I just want to say thank you for all of the work you put into my case. Brad, I appreciate you pushing through even with all of the difficulties you were up against. Thank you again for your time once again and I will definitely be referring people to you in the future.
Kimberley P.
My heart felt gratitude goes out to Howard Blitstein and his efficient staff members for their dedication and professionalism through out the period when they handled my cases They were always there for me whenever any assistance were being needed.
L.P.
Dear Brad, we wish to thank you for representing us in the litigation. It was a long road for us, in terms of the recovery from the accident, dealing with the various professionals and the delays in the litigation. We appreciate you sticking with us throughout the process. We are very relieved to have the legal part behind us. The mediation was an interesting experience. Brad, you have exceptional skills. We were very grateful that you were on our side! We hope that in time, the bad memories will fade and we can focus on the good things that came from the experience. We encountered some very good people including you, Brad, which made the experience less difficult.
Lori C. & Arnoldo N.
Joel and the rest of the firm were invaluable in helping us through a difficult time. After I was involved in an accident and having suffered both physical and mental injuries, I was unsure of what to do next. My family and I were dealing with doctors, insurance, and medical bills, as well as the emotions from what had just occurred. Joel was great in walking us through what the process would be. He answered all our questions, and made himself available to us when needed. My family and I felt comfort in knowing we were in good hands, and would be settling for the compensation that I desperately needed.
Maria D.
I would like to sincerely thank Adam Wagman for his professionalism while helping me and my family through a very devastating time. He always made me feel like his most important client by constantly keeping me informed and up to date. Adam was very empathetic and supportive during this whole process, and made a positive difference in mine and my family's lives. I want to take the time to express my deepest gratitude and wish you, Adam and Tania, great health and a prosperous future.
Nicholas K.
After all is said and done I must say a big thank you to you Meghan, for being pleasant while helping me through most of the rough patches in my life throughout the whole case. I'm happy I found your office and most of all found you.
O'Neil W.
I would like to thank Brad and Wendy for helping me in winning my case against the insurance company. I can finally turn the page and get on with my life. I am grateful. Great job thank you.
P.H.
Brad Moscato is excellent and everyone at the firm was really nice and caring. They showed compassion and made me feel very comfortable. I always felt they had my interests at heart and that I was kept informed of every step. The team understood how serious my condition was and most of all understood that this accident changed my life. When you are rear ended by an 18 wheeler truck, life will never be the same. We were able to settle out of court and get me the support I needed. I highly recommend the team at HSH.
Pearl
After waking up our of a drug induced coma it was comforting to know that Adam and his team (especially Donna) were already working on my behalf. As a family we really appreciated this support, answering endless questions and just being there whenever we needed them. Adam Wagman was so compassionate and caring, not just to me personally but to our entire family. We would not hesitate to recommend Adam and the team at HSH LLP. Thank you.
Philip K.
Michael always kept me in the loop as to what was happening with my case and while the insurance company was delaying, he kept pushing until they were forced to the table and then they finally made a sensible settlement. I was thrilled with the result and can now get on with my life
R.M.
On behalf of myself, my parents, and sister, I wanted to thank you (Melissa Miller) for all of your effort on this file. You made this difficult process bearable for my parents and younger sister, and have treated them with such compassion, care, and respect throughout the difficult litigation process. My mother is so fond of you, and has always spoken so highly of you, and truly appreciates that you always treated her like family. Those are her words! On a personal note, I am truly grateful and appreciative of your hard work and dedication. For me, it has been an absolute pleasure working with you and getting to know you. You are truly a gem! So thank you!!
R.M.
I would like to thank Howard and Holly for bringing me through my case. Thank you for being responsive and professional and answering my questions throughout the whole process. Above all, thank you for being patient, understanding and kind. I am so grateful to have met you and trusted my case to you.
S.S.
We wish to extend our great appreciation and thankfulness for you and your colleagues. In particular, thank you to Meghan Hull, who took great care of our son's lawsuit, and our family interest. It has been a pleasure working with the HSH office, in the most professional way we could have hoped for. Thank you very much.
Shai M.
Thanks, Melissa, for all what you have done, for everything you didn't get to do because I forsake your idea of going on further with the case as you felt I was giving up too much. But I was so tired my body was crying out for help. I know that no money in the world couldn't bring my husband back, but I am so very thankful for the "settlement. Thanks for believing in me, and thanks for convincing me to believe in you and your Law Firm. You have restored my hope to see a better future on this earth, however long it may be
Sylvie M.
I just wanted to thank the team at HSH for the time and effort put into my case. A special thanks to Kaitlyn and Christie for your guidance and patience and support through a difficult time.
Tania C.
I would like to send my sincere thank you and appreciation to Adam and his team, for his professionalism and care in helping me and my family through a very difficult time, after my mother sustained serious brain injuries as a result of a car accident. From the very beginning Adam and his team took care of any issues for us, always answering questions right away and making sure all issues are addressed. Adam treated us like an extended family and this meant so much for me, in a time when I felt so hurt and vulnerable. I whole-heartedly recommend Adam to anyone who goes through similar circumstances as our family did.
V.B.
Joel, thank you for all your help with my parents. We are very appreciative of the hard work you and your team have put in for them. It has been a relief for them to have such great lawyers on their side.
Vy
I was treated very well and compensated very well. Joel, Tanya and Pryia were all very professional and personable at the same time and nice people to boot. I would and will refer them if a malady arises among friends and family so thanks to your team many times over.
William P.
I would highly recommend Mr. Moscato. He and his staff are highly professional. Not only did they put me at ease, they are very caring and compassionate. Very easy to deal with. Without a doubt, I would go to Mr. Moscato again for any legal purposes that arise. His support staff, which includes Jessica, Courtney, Wendy, etc. are second to none. Highly recommend.
Zelko K.
Motor Vehicle Accidents Testimonials

We cannot thank you enough, Jim Howie, David Levy, and your dedicated support team for all your hark work to secure Alli a future that will provide her with financial stability and the means to purchase whatever devices or renovations she may require to accommodate her changing needs. You have worked tirelessly on her behalf. We are so grateful that your firm was recommended to us all those months ago. We truly appreciate your expertise and your efforts on Alli's behalf. Thank you from the bottom of our hearts for all your help, advice and guidance.
Allison H.'s Mom
Brad Moscato and his team were very understanding. They were informative and helped me resolve my claim.
Angela H.
Thank you to Howard Blitstein for your steadfast efforts regarding our case. Most especially, I appreciated your understanding, as well as your restrained and respectful way of discussing the situation with us.
Anonymous
I found Mr. Dick to be extremely passionate, knowledgeable and approachable. He always made me feel he was in my corner and based all his decisions on what was in my best interest. He was always honest with me and I never felt uneasy with any of his advice as to our next move. I know the very positive outcome that I experienced was a direct result of Mr. Dick's passion, commitment and expertise and for this I am very grateful.
Brett A.
My deep gratitude to Meghan Hull Jacquin for her expert and kind support throughout my lengthy public transportation case. I was referred to your firm by a former neighbour, and I cannot overstate my admiration for how my case was handled. Meghan's qualities as a litigator truly amazed me in that, during what was for me a shockingly accusatory discovery, her steadfastness and quickness of intellect meant she was always in command of the situation, no matter how provocative the stance of defence counsel. In our meetings, Meghan was always charming, gracious and warm and made a difficult situation so much more comfortable for me. Beneath this charm and warmth dwells an unwaveringly strong and knowledgeable professional. I drew much strength from recognizing this quality in my lawyer and, even though I understandably had times of great discouragement, given the ongoing intransigence of the defence and the fact that I have to cope with painful physical impairments, Meghan's encouragement and good humour gave me hope and courage to continue on.
Carolyn B.
My father had a terrible car accident back in February 2007, but the Insurance Company was not willing to help. We saw a lawyer for a couple of years, went through many tests and rebuttals but got nowhere until the acting lawyer referred us to Howie, Sacks & Henry . When we met at your offices, something seemed different: everybody was upbeat and ready to help. We saw a lion defend my father's rights. Brad Moscato did not negotiate anything, only my father's well being and got the best settlement available for him. Brad Moscato is an excellent lawyer who knows all about car injuries and will not back down in front of a powerful insurance company. I will recommend him over and over again to any of my friends, should they ever have to go through the same ordeal.
Cesar T.
Mr. Henry and his staff helped me and my family through a very devastating time. I lost two children and my wife and oldest daughter were very badly injured in the car accident. He was able to get the insurer to realize they were at fault, the value of the case and bring them to a settlement for their policy limits, much faster than I expected. His reputation, skills and excellent staff were what made the insurance company pay, so we could try to get on with what was left of our lives as a family.
Devin H.
I am very pleased with the services and interaction I had with Brad Moscato and his team. Telephone calls, concerns and emails were dealt in a timely manner. Throughout my experience with you, I was always treated with courtesy, respect, and dignity and for that I am grateful. I will gladly recommend your services when and where applicable. I take this opportunity to wish you every success in your career. Thank you Brad for handling my case, and best wishes to you and your team, Christine and Courtney.
Dinali U.
Our thanks to David Levy and your staff for all the work you have done for our son. After visiting several lawyers we were going to give up on being able to get him the help he needed as a result of the MVA that happened when he was just 6 months old. Our last hope was Howie, Sacks and Henry who, after taking the time to listen to us, assured they could help our son get the services he required.Within a short time after taking us on help arrived. His grades slowly began improving. The stress in our home began declining and overall life became more manageable. You were able to get our child the best possible outcome for him to face his challenges with confidence and dignity and we cannot thank you and your staff enough for this.
Fabian B.
From the moment I contacted Howie, Sacks and Henry and Mr. Adam Wagman was assigned to my case, he not only cared for me and my family, but he understood and supported me during the process. He was always kind, caring, polite and professional. At my Tort mediation Adam Wagman, along with Melissa Miller's negotiating skills far surpassed all my expectations. They are both insightful lawyers and got an excellent settlement for me. Adam Wagman and his excellent staff was looking out for my best interests at all times. I am very satisfied with the legal services that were rendered to me and with the total outcome of the case. Adam Wagman and his dedicated staff live true to their mission and vision statement – they are the epitome of excellence – delivering only the best to their clients, and in so doing display great care, compassion and concern.
Feroza L.
Brad and his team provided excellent service to me and my family. We are happy with the quick results he was able to obtain. Everyone was very nice and we feel very fortunate to have had Mr. Moscato assisting us. The lawsuit experience could not have been better, given the unfortunate circumstances surrounding the motor vehicle accident.
Frances F.
As a lawyer, I was extremely careful in who I decided to represent me when my career and life was at its lowest due to a traumatic brain injury I suffered a car accident. Adam Wagman was recommended by many of my colleagues. From the beginning Adam was attentive, patient and incredibly knowledgeable. His skill at negotiating was evident at every stage of the proceeding and the more we spoke and the more I saw, the more at ease I became. I believe that having him represent me also helped me in the healing process. I was able to relax on the legal side and focus on my recovery. In the end, I was also very pleased with the settlement. Adam is a lawyer's lawyer. He has my highest recommendation.
G.G.
Dear Brad Moscato, thank you to all the people who have helped me since the accident. Thank you for your lovely help and beautiful kindness. I wish you and your family are happy, peaceful, healthy, love and successful.
Irene K.
Brad Moscato and his team were my 3rd set of lawyers and by far the most effective. I would suggest to anyone in a car accident to seek advice and assistance from him and his team
Jennifer D.
Upon receiving the closure letter in my accident case, I wanted to take the time to express my gratitude to you Adam, Tania, Pryia, Katrina and Joel. From my first meeting, sitting in the wheelchair with Adam and my wife at Sunnybrook, you five have made this part of my recovery very comfortable and painless. I am forever grateful. Although I have recovered exceptionally well up to this point, I realize the future is not always clear and I am at peace with the security that the settlement may provide, if necessary. Adam I have been slow to grasp this possible reality and by no means did I mean to dismiss the importance of the work that HSH has done on my behalf. I feel I wasn't able to express myself very well in our last meeting at your office and wanted to clarify. I thank you all very very much and wish you good health and much happiness!
Jonathan B.
Without Howie, Sacks and Henry (HSH), specifically Adam Wagman & Melissa Miller, we would never have had the outcome we did. After my husband's motorcycle accident they fought for us every step of the way. It is not easy to navigate the insurance world and HSH helped us down that road. The professionals with which they have relationships, specifically occupational therapist and case management are also a big part of this success. If you need a lawyer HSH is your team. From the top partners to the support staff (Tania Harris & Chanice Dean) and so many others, they will all work hard on your behalf.
Kelli B.
Our father was rear ended by a distracted driver and medical complexity ensued. Our family was introduced to Adam Wagman and from the first meeting, he Joel, Padma and their team set our minds at ease. They helped us navigate the legal system and options for working with the insurance companies and let us focus on the care and rehabilitation of our family member. They were always responsive and had helpful advice. They engaged experts to support our claim. They managed our expectations of the timeline and process with honesty, experience and compassion. They managed all of the claims information, documentation (and delays) with the insurance company, which was huge relief. They successfully guided us through the litigation process and settled claims with both our insurance and the other driver's insurance expeditiously and with expertise. It was a difficult time for us and we felt they navigated all of the complexities and kept us well informed. Our family are all well educated professionals who would have been frustrated and excluded from accessing care we needed without their legal guidance. We would have no hesitation in recommending this team at HSH to anyone facing these circumstances and recommend they be engaged as early as possible in the process. We were glad we did! Thank you Joel, Adam and everyone at HSH.
Linda H.
Almost immediately following the MVA that occurred in August 2012, Joel Dick became an important part of my recovery both physically and financially. He very aptly navigated us the insurance claims as well as out lawsuits. Joel possesses the perfect mix of legal skill and knowledge along with genuine compassion. He extended great patience to me and my family; he remained responsive throughout the entire process and always made time to provide regular updates and reassurance. I could not imagine going through the ordeal without Joel at my side. I would greatly recommend him to anyone requiring legal representation. Thank you again, Joel! All the best of the season to you and yours!
Mark C.
I just wanted to thank all of you for the time and effort you put into my case. A special thanks to Howard for your guidance and patience and support . You are indeed very special person and your advices were highly appreciated. Again, many thanks to everyone in your team. Much love and Blessings.
Nivine and Sameh H.
Because of Mr. Brad Moscato and his team, my life is now brighter and my medical support is forever taken care of. He is not only an excellent attorney, providing the highest quality legal advice, but also a professional who goes above and beyond helping his clients. As a client, you always feel that he will stand up for you and will help you get through the process every step of the way. I would definitely recommend Mr. Moscato to everyone. I could not have asked for a better attorney
Rosalina S.
Dear Mr. Moscato, Your help, support and advice made the world a little nicer for us after all we went through. Thank you to you and your team.
Rosie S.
David – we have met several times over the last nine years as you have masterfully and with perseverance guided my sister's case to a successful conclusion. She is thrilled and relieved with the result you have achieved. I have greatly admired your professional skill and your strategic ability in presenting arguments and in knowing when to persist and when to be patient. And, I have so appreciated your kindness and care to Jan throughout this long process which has been so hard on her. Over all these years, we never doubted that you were committed to seeing this case through with Jan to a just conclusion. Finally, I know that we have benefited from your reputation and from the respect that your colleagues in the broader legal community have for you. Thank you so much, David
Sister of J.C.
I absolutely and wholeheartedly recommend Adam Wagman, in my opinion there is not a better, more efficient or effective lawyer. He is compassionate and dedicated. He is honest and trustworthy; he kept every single promise he made to us and always went beyond the call of duty. I have nothing but the most sincere praise for him and for all his efforts on our behalf – it is because of his expertise in this field, diligence and commitment to do the very best for his clients that my parents have recovered from the accident as well as they did. The same goes for me, he was (and is) always there for me, gently and skillfully guiding me through a very difficult process, answering all my questions and addressing all my concerns. I am the sole caregiver for my parents and their only advocate and without Adam I would have been hopelessly lost. Adam and his team (I must also give credit to his amazing clerk Tania Harris) always made sure my parents were well taken care of in every sense and that their quality of life is the best it can be under the circumstances.
Susan I.
Making the right decision is always important and when it comes to being represented by a law firm we chose right. Brad Moscato and his firm believed in our case and supported us thru a difficult time. We never felt that we were the victims he handled our case with the respect and care and in great detail. Brad Moscato and his team were always there to eliminate the worries and the result was a true win. Thank you for the victory.
Tino and Marisa T.
Medical Malpractice Testimonials

Howard, I want to thank you so much for sticking with us over the past 5 1/2 years during our medical malpractice law suit. Throughout our contact with you and your firm over this extended period, you have always been fully professional, courteous and promptly responsive to any of our questions. Obviously we are very pleased that the case has been satisfactorily completed. But we also thank you for making the journey as pleasant as possible, under the circumstances.
Anonymous
Howard not only did a wonderful counsel of my case but was very kind, gentle and showed personal compassion for my right to justice. He was always available within an hour or less of a phone call or email at home or office. He made me feel I was in good hands and trust was always important to me. Howard Blitstein also contacted me 2 months ago just to see how I was doing, which brightened my day. Very classy. Howard Blitstein deserves a high commendation for his excellent qualities as an attorney and I appreciate all he has done for me. Both my husband and I applaud him with utmost respect. He is a great lawyer but also a true gentleman.
G.B.
Excellent Choice – We were referred to Howie, Sacks & Henry by another legal representative. Very Impressive: We have nothing but gratitude & appreciation for Meghan M. Hull Jacquin's calm, stress free demeanor & her tireless effort to push on [through discovery and mediation] to win the award my mother was so deserving of. We are truly indebted to Howie, Sacks & Henry for agreeing with Meghan to file Legal Action against an organization whose negligence caused harm to my mother.
Keith R.
Once again we both want to thank you, Howard, for the sensitivity and professional due diligence you brought to the situation. That in itself has helped alleviate some of the pain associated with broken medical expectations. And we'd like you to sleep well tonight knowing that your clients think you did an outstanding job on our behalf.
R.M.
Slip and Fall Testimonials​

Having a slip and fall accident is scary enough, but to file a lawsuit against the biggest airport in Ontario and the GTAA is overwhelmingly terrifying. However, through all the paper work, interviews, the discovery, etc, Kaitlyn MacDonell has been such a blessing. Not only did she make the entire process a smooth one, but she was also someone that was able to comfort me in times of distress and physical pain from my accident. If I had any questions, either her or her clerk were there to answer any and all questions. I highly suggest Howie, Sacks and Henry, and if you can request for Kaitlyn MacDonell you will be in the best of hands!
Armel B.
I would like to take this opportunity to thank Melissa Miller and her team at Howie, Sacks and Henry, for their exemplary handling of my "slip and fall" case. I was especially impressed by Melissa's quick response when a mutual friend recommended her to us and she immediately visited me in the hospital within a few days of my surgery. Melissa was always professional and we were very grateful to have her in our corner. She was able to negotiate a 6-figure settlement through her tireless efforts over the span of three years. In fact we received our settlement on the third year anniversary of my accident. We will be happy to recommend Melissa Miller to anyone who finds themselves in a similar situation, protecting their right to a meaningful and positive conclusion.
Bonnie M.
I would like to thank you one of your lawyers Ms. Sandra Train, for such a great preparation for my slip and fall case, and because of her dedication and professional attitude we won the case. I would like to thank you all of your great team.
G.M.
I did want to say my family has asked me to express their appreciation to Joel Dick, for the hard and dedicated work you put into this case over the last few years. You smashed a stereotype yesterday and I love when that happens. You were not only professional, but patient and understanding and I truly believed you had [my brother's] best interest at heart.
Ken S.
David, after my unfortunate accident, life became difficult and complicated. Your representation was accurate and thorough. You had a clear understanding of the dynamics of the situation and you provided an honest assessment of my chances of success. Thank you for welcoming my calls and questions and responding with patience and courtesy. Thank you for the outcome, and for the clear, honest and practical legal advice.
Miriam B.
Long-Term and Short-Term Disability Claims Testimonials

I visited Mr. Moscato for first time under an extremely difficult paranoia since I was very sick and was not able to deal with all the stress involved in a claim process for long-term disability benefits. Since my first meeting with Mr. Moscato I feel a tremendous relief not only because of the quality of his professional services, but also because he had a very supportive, kind and generous attitude. With Mr. Moscato's help I was able to recover my benefits from the insurer which gave me the peace of mind to focus in my recovery. I am enormously grateful to Mr. Moscato, and I highly recommend his valuable services.
Angela S.
I feel so fortunate to have hired Brad Moscato in representing me on my LTD claim. Brad did an amazing job in achieving what I believe to be a very positive outcome. Brad Moscato is a true professional. He was always approachable and very personable. I must commend not only Brad, but his support staff as well. They are true professionals that are efficient and competent. All in all, Brad and his team helped to turn a very difficult time in my life into a positive future.
Angelina R.
Everyone at Howie, Sacks & Henry was very professional and kind. Brad Moscato understands the challenges of dealing with a lawsuit for someone who is disabled. The doctors he sent me to for my case were great and thorough. I am satisfied with the settlement Brad got me without having to go to court, which is a major plus.
Carrie L.
Brad and his team are amazing. Not only did they help me reach a settlement for LTD, but they were also great at helping keep me calm during some of the more stressful moments. I would recommend Brad and his team without hesitation. Thank you for the great job!
Dawn M.
Thank you to Brad Moscato and his team for helping me with my long term disability case. They helped reduce my anxiety level significantly and achieved a result from the disability insurer that will help me and my family.
Eustus M.
Working with Brad Moscato and his team was a pleasant experience, considering the unpleasant situation which required us to use his services. He kept us updated on all matters. Furthermore, he and his team were very quick and professional in responding to all of our inquiries. We are very happy with the settlement and would certainly recommend Brad to anyone who might require these types of legal services.
Joseph F.
When I was denied my disability, I chose Howie, Sacks & Henry. They were the most responsive and instilled confidence right from the first contact. Once I met with Brad Moscato, I immediately felt a sense of relief and like a weight had been lifted. I knew I had an advocate, finally. Brad and his team got me my life back and security of a settlement. It is not an easy process without stress, but you cannot do it alone. I completely recommend using Howie, Sacks & Henry if you are in the unfortunate position to need a personal injury lawyer. Thank you Brad and all!
Kim J.
I would like to express my heart-felt thank you to Brad Moscato and his team for working on my case. My case was somewhat complex and extremely stressful; Mr. Moscato and his team were very helpful and receptive while working on my case. I consider Mr. Moscato to have the three C's. He has Character, Commitment & Compassion. Mr. Moscato made me feel at ease when he recently attended two mediations with me. We talked about our lives, which took away quite a bit of the pressure and stress that I was facing at both mediations. Mr. Moscato is a very sincere person. He was very efficient and took interest in my case, which made me feel at ease. His team is very knowledgeable and patient and I want to thank them for speaking with me. I am very pleased that I met Mr. Moscato. I will surely pass on a referral to anyone if they require his service. Once again my heart-felt thanks and appreciation.
Lorraine G.
By the time I met Brad Moscato I had been engaged in a prolonged combat with my insurer to restore my benefits. I chose Brad because he explained my case in terms of my life, my situation, and the choices I faced, not in legal terms and processes. My case was successfully resolved in less than half the time I spent battling the insurance company. Brad's staff, especially Courtney Nevins, were very helpful and replied to my queries promptly. Brad and his team turned my nightmare into a sigh of relief.
Michael A.
Brad and team, Thank you so much for all your help, understanding and caring. I appreciate all your help. You really listened to me and really showed me what my rights and entitlements were. You helped me to get what was rightfully mine and did while being kind and caring. I really felt that not just you, but your team was on my side and you did everything possible for me. Thank you so much.
Nadira D.
I hired HSH due to insurance company cutting my LTD benefits to to pre-existing condition which was inaccurate. Mr. Brad Moscato fought my case and the insurance company reinstate me. I also dealt with Jessica & Courtney at HSH and they are wonderful & supportive. I would recommend this firm to everyone that needs a lawyer & support to fight their case. Thanks.
Rose G.
Brad Moscato and his team worked extremely hard on my case and did not let the insurer dictate things to me anymore. The firm obtained a result for my long term disability case that exceeded my expectations.
Theresa W.
My disability case was a very sensitive one, as it involved a diagnosis of mental illness. However, Howard Blitstein always treated me with respect and never made me feel like I was intellectually or emotionally incapable or inferior. Mr. Blitstein always gave me the facts and allowed me to make my own decisions. He also worked hard to settle my case, corresponding with the opposing side even during holidays. Overall I feel that I was treated like an equal human being.
Vivien F.
Lawyer Referrals

Through my long-standing personal and professional relationship with David Levy, I got to know other partners at HSH and developed the utmost confidence in their ability to be collegial where appropriate but get aggressive when necessary. I have been referring clients to them for close to 15 years and my clients have reported overwhelming success with HSH. I have also worked closely with HSH partners on files where Personal Injury Law and Criminal Law intersect. This multi-disciplinary approach has given the client a huge advantage in civil and criminal court.
Edward Prutschi
Adler Bytensky Prutschi
I've been referring clients to HSH since the firm was first founded, initially based on my personal knowledge of the excellent work of Neil Sacks, one of the founding partners. I'm pleased to say that referrals to HSH are something I can provide with the fullest confidence. I've never heard of a dissatisfied client or been asked for another suggestion for a personal injury firm. HSH is doing something right, for sure.
Gary Hodder
Hodder Barristers
I've been sending Adam Wagman referrals for well over a decade. HSH is one of the top personal injury firms in Ontario. Their track record is outstanding. The lawyers are caring and compassionate. And their expertise in all major areas of personal injury law is second to none. Our clients are always pleased with the referral to HSH… and it makes us happy to know that their interests are well taken care of.
Howard Manis
Macdonald Sager Manis
I was first referred to Michael Henry by another lawyer who had been referring cases to him for quite a while. I am very happy with the referral relationship and it has been ongoing for close to a decade now. Michael is an excellent personal injury lawyer and very easy to talk to. That combination of qualities is, in my experience, quite unusual. It is one which makes clients feel both comfortable and confident.
Joseph Pellizzari
Barrister and Solicitor
Real Estate, Criminal Law & Civil Litigation
When Adam Wagman and I first met to discuss referring clients to one another, I was instantly impressed with his professionalism, honesty and entrepreneurial spirit… something we share. From the outset, I felt we would have a professional relationship for the long term. True to this first impression, Adam is a person of his word and always treats clients like people. He's a bright and charismatic straight shooter. I've been referring clients to him for close to fifteen years now.
Lisa Gelman
Gelman & Associates
HSH has been my preferred personal injury law firm of choice for over fifteen years now. They are first class, smart, professional and highly experienced. I wouldn't have it any other way.
Milton Davis
Davis Moldaver
HSH has a solid reputation within the civil litigation bar and with many of our cases having a civil litigation component, working with them makes sense. Brad Moscato has been competent and pro-active, providing advice on how to strategize and navigate the potential civil litigation before even taking on a file. I have always received positive feedback about Brad from clients.
Mitch Worsoff
Worsoff & Associates
I've been referring clients to Michael Henry for over a decade now. Michael and I went to law together in Ottawa and when he moved to HSH, my referrals moved with him. He remains to this day a good friend and colleague and my primary connection to HSH. I thoroughly enjoy working with HSH. They are a firm of compassionate and intelligent professionals that manage to get their jobs done with a great deal of sensitivity and conviction. Most importantly, clients that I have referred to them have seen excellent results, which of course, reflects well on me.
Paul B. Fox
Barrister & Solicitor
Family, Commercial & Employment Litigation
I first met Jim Howie through a lecture series which I attended over 25 years ago on personal injury law. I was immediately impressed with his depth of knowledge and experience base and began to provide referrals to him. The main thing I look for in a referral relationship is true professionalism. In my opinion, and the opinion of the clients I have referred to him, Jim Howie has that in spades. It's been a great relationship all the way.
Paul Barrafato
Bartolini, Berlingieri, Barrafato, Fortino
Personal Injury, WSIB, CPP, Civil Litigation
When I am unable to act on a matter, or I am in need of co-counsel, I've found that David Koven and his colleagues at HSH have always provided excellent service to my clients and to others that I refer to the firm. Over the many years of this relationship, referrals have always resulted in positive feedback
Paul D. Koven
Gertler & Koven
Personal Injury, Employment, and Commercial Litigation
I consider Mr. Sacks to be a very well-versed, professional personal injury lawyer and have been referring cases to him for more than 16 years. Mr. Sacks and his team handle the cases with compassion, commitment and professionalism. They make all the correct calls in developing the claim and are able to achieve a favourable result for the client.
Paul Neil Feldman
Feldman Law
Civil & Commercial Litigation
At RD Law, we believe in providing service to our clients, not only in our area of expertise, but outside of it. For personal injury cases, we refer our clients to HSH with confidence and trust — based on our shared values and high standards of quality and integrity. HSH's excellent reputation, together with Meghan Hull's high standards of professionalism reflect well on RD Law and all of our clients.
Rinku Deswal
RD LAW, Barristers & Solicitors
For close to a decade now, I've been referring people to HSH. I believe that when I refer clients or others persons to another law firm, the way these people are treated and the quality of the legal services they receive is a reflection on my practice. I have the confidence and experience with HSH to know that anyone I refer to them will be provided with the same quality of legal services and level of care and respect that I personally show my clients. This has proven to be a win-win situation for everyone involved.
T.J. Laskowsky
Laskowsky & Laskowsky
Real Estate, Wills & Estates, Corporate/Commercial Law
Among the best in Canada
Since 2011, our peers have consistently voted for us as one of Canada's top personal injury firms in Canadian Lawyer magazine's annual rankings of the top personal injury boutiques in Canada.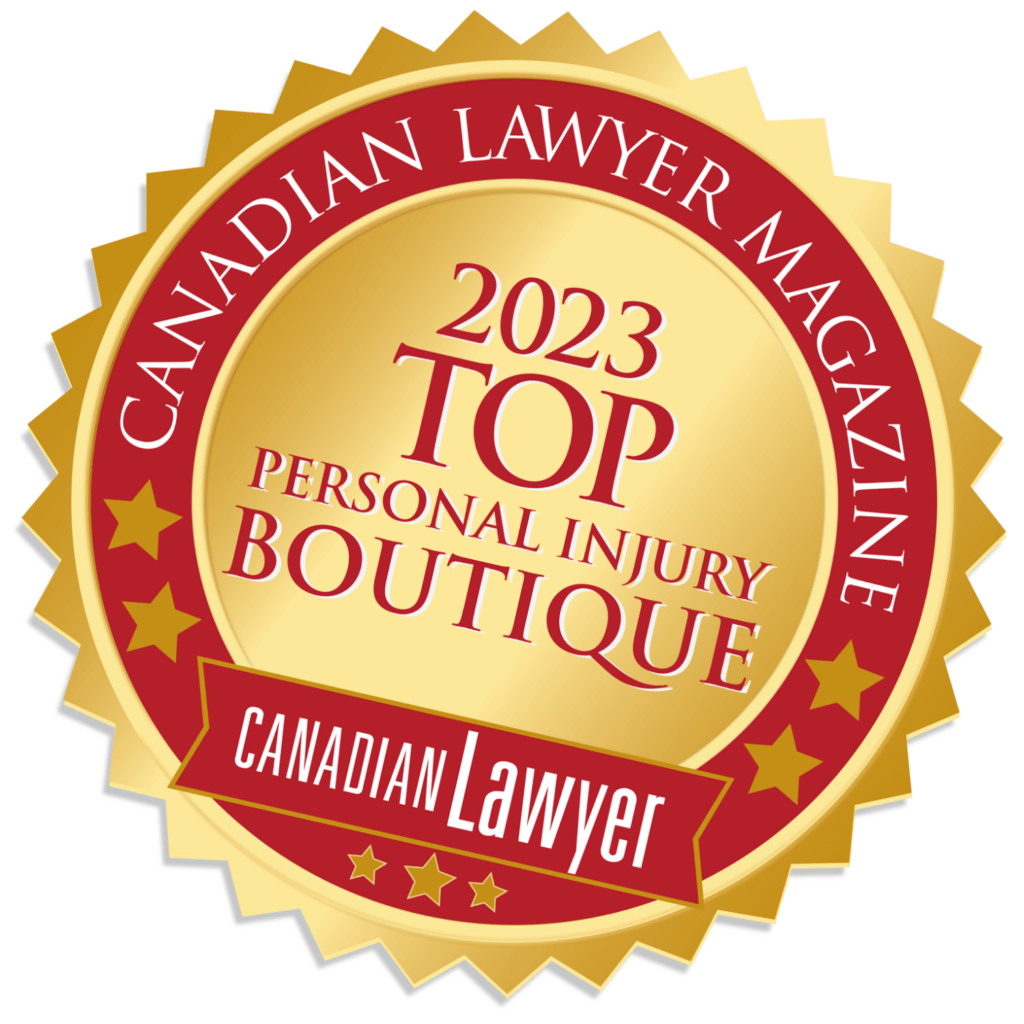 Tell us what happened

Our team of highly-trained lawyers are here to listen and help.